The subjects covered in this 'three separate' short 15 minute Watercolour Video lessons are:-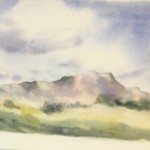 1.     Learn 'How to Paint Clouds',
2.     Learn 'How to Paint Mountains'
3.     Learn 'How to Paint Rocks'.
Painting landscapes make wonderful subjects in Watercolor!  A quick brush stroke can convey so much with such little ease!
It is with this in mind, that I have produced a series of small downloadable Watercolour Learn 'How to Paint' video demonstrations and DVD's.
In the Learn 'How to Paint Clouds' Watercolour lesson I have focused on a 'wet-on-wet' technique to begin.  I explain how by painting the gaps between the clouds, our clouds will appear effortlessly.
In the Learn 'How to Paint Mountain' Watercolor lesson I have demonstrated a 'beaded wash' technique, varying the color as I go.  I explain the importance of a 'varied' edge .  This is sometimes referred to as a 'lost and found' edge.
All of these are techniques for beginners and those wishing to improve on the basics of Watercolor.
These Downloadable Video or DVD lessons are very inexpensive, and a great option for those that cannot attend classes.  In fact video lessons can be even better than class instruction. The lessons can be slowed down, paused or rewound if you lose concentration, need a break or are interrupted.  They will be available on my web site during March 2012.
Happy Painting!
Best regards
Annette