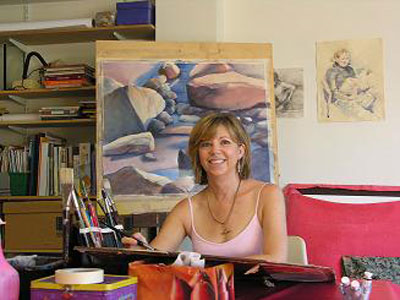 There is nothing like the exhilaration I feel when watching intense pigments merge and flow across wet paper!  I see beauty in the every day things around me and I paint them. The way the light falls across a surface or the colorful shadow patterns are more important then the subject itself. Simplicity and strong design is what makes a watercolor painting successful for me.
Good luck with your lessons and I hope that your desire to improve your painting skills never wanes.
Biography
Annette has had a passion for drawing and painting from a young age. She studied Art in Yallourn, Victoria and graduated with the Top Student Award in 1990.
For the past fifteen years she has been teaching watercolor painting and drawing and helping others discover this wonderful medium.  Annette's paintings are displayed in private collections throughout Australia and Europe. She has won many awards and has contributed an eight page feature article in Australian Artist Magazine. She paints a variety of subject matter, her main focus being to capture the play of light and shadow, eliminating all unnecessary detail to reveal the essence of her subject.
Awards
Australian Artist Magazine – '

There's Rhythm in the Trees'

– Finalist July 2012
Mortimore Art Prize – '

Gently Fades to Gray" & "Homeward Bound'

 – Finalist 2012
Royal Qld Art Society Big Art Awards – Watercolour – Gouache, '

Beyond Blue'

– 1st Prize 2011
The Artist Magazine 28 Annual Art Competition –   Portraits/Figures,

'Anna Under the Palms

' – Finalist 2011
d'Arcy Doyle Art Awards – Portraits – '

Love Those Sundays

' – 1st Prize 2010
Mortimore Art Prize – Landscape – '

Dancing Light – Boreen Pt

' – Finalist 2010
International Artist Magazine – '

Warm Breeze Through the Pandanus'

– Finalist June-July 2010
d'Arcy Doyle Art Awards – Portraits – '

Distant Thoughts

' –  2nd Prize  2009
Royal Qld Art Society Big Art Prize – Watercolour–

'Mysterious Wisteria'

-1st Prize  Section 2009
Australian Artist Magazine – '

Emma Under the Palms

' – Finalist December 2008
Tattersall's Landscape Prize  – '

Beyond the Causarinas

' –Finalist 2008
Winsor & Newton Opera Rose Competition –

'Thoughts Distant'

– Finalist 2008
Pacific Fair 30 Icons Competition – 3rd Prize 2008
Qld Art Society Annual Exhib.- Watercolour– 2nd Prize  2005
Gold Coast Show – Watercolour – '

Cabarita Beach

' 1st Prize 2005
Australian Artist Magazine – '

Cabbage Shadow

s' – Finalist June 2005
Springwine Festival Montville – '

Fruit of the Vine

'– 2nd Prize 2003
Watercolour Society of Old – '

Blue Moods

' 1st Prize 2003
Gold Coast Show – Watercolour Section –  – 1st Prize 2003
Maleny Art Awards – Watercolour  – '

Lookout Tower

' –  3rd Prize 2002
Various Commendation Awards – 2000 – 2007
Yallourn College Vic – Most Outstanding Applied Art Student 2nd Year – 1989
Yallourn College Vic – Diploma of Art & Design 1989
Publications
International Artist Magazine – 'Warm Breeze Through the Pandanus' –  Photo and Editorial – Finalist June/July 2010
Paradise Magazine, Gold Coast Bulletin Featured Artist Editorial -'

Painting at the Speed of Light

' – Sept 9-10 – 2006
Australian Artist Magazine – "

Cracking the Watercolour Code"

– Featured Artist 2006
Australian Artist Magazine – Finalist – Dec 2012, Jun 2012, Mar 2013, Dec 2008, June 2005
Exhibitions
Robina Art Gallery 2011 – "Power of 7 Brushes" – Joint Exhibition
Robina Art Gallery 2011 – "Power of 7 Brushes" – Joint Exhibition
Gold Coast Arts Centre Cafe Oct 2010 – Solo Exhibition
Masham Arts Festival 2009, Yorkshire UK, – International Artist in Residence,  – Solo Exhibition
Tattersalls Landscape Art Prize, 2008 – Selected Exhibition
 Royal Qld Art Society 2006 – "Simply Watercolour" – Joint Exhibition
"Artsome Foursome" 2004 – Group Exhibition
Baze Road Gallery 2002 – "Favourite Things"  – Joint Exhibition